GLASS ART

Dias de los Muertos (Day of the Dead) alter. All the offerings and decorations are lampworked or fused glass (except for a cute pair of coffee cups I bought in T or C). The Virgin of Guadalupe was hammered using very inadequate tools but came out quite nicely. It's approximately 12 inches long, 6 inches deep and 12 inches to the top of the arch. Dedicated to my Aunt Patty, this one isn't really for sale but others are in the works.
Just Folk Tin and beaded stage curtains frame 3 fused and lampworked marionette-like figures: The Boy, The Cowboy, and The Santa Fe Lady. About 12 by 12 inches by 1 inch deep, it can also sit on a surface. This piece won a prize at the Off Center Arts Folk Art Festival in Albuquerque.
Price: $200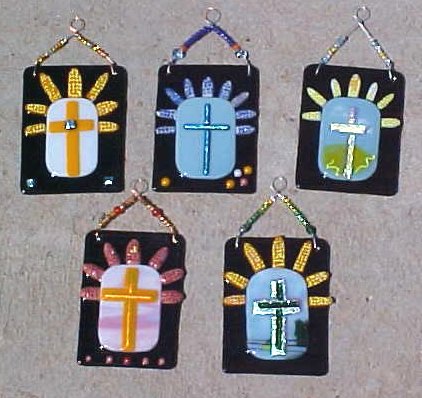 A selection of Corn Crosses. These were inspired by the Corn Dance at Santa Ana Pueblo. Very New Mexican! Approximately 2 inches by 3 inches plus a beaded hanger. Each one is unique. Currently out of stock but more will be coming.
Price $35.00 each.